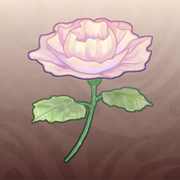 Princessia (プリンセシア, Purinseshia?) is a recurring flower in the series. It is considered a special and unique flower, and is notable in Tales of Symphonia, Tales of Xillia and Tales of Berseria. The flowers grow prominently throughout the region and can even withstand the harshest of conditions.
History
Tales of Berseria Velvet Crowe's sister, Celica Crowe, was very fond of the flower variety, so much so that her grave in Aball was lined with the freshest of its kind on a frequent basis. In a skit with Rokurou Rangetsu, the meaning of the Princessia is revealed by Velvet to be that of betrayal.
Notable Locations
Tales of Berseria
Ad blocker interference detected!
Wikia is a free-to-use site that makes money from advertising. We have a modified experience for viewers using ad blockers

Wikia is not accessible if you've made further modifications. Remove the custom ad blocker rule(s) and the page will load as expected.